What discords will drive Europe into that artificial unity -- only dry or drying sticks can be tied into a bundle -- which is the decadence of every civilization? How work out upon the phases the gradual coming and increase of the counter movement, the antithetical multiform influx.
-- W.B. Yeats, A Vision
The
Object
, the Influx, progressively widens its field of contact. More and more its contours and spires are perceived. Its impact can be charted to some degree by reviewing the singular events of the past while, events that trace our deepening inability to decisively know anything.
By the time Trump announced his bid for the presidency -- appropriately on
Bloomsday
2015 -- no consensus could even project the illusion of being a vital force. Now, no official story remains. All has become conspiracy theory.
Throughout his campaign, Trump and his supporters complained that the establishment and its corporate media were involved in a conspiracy to prevent him from being elected. Trump went so far to say that the election would be rigged against him. The media portrayed him as being a racist and sexist doofus, yet his supporters, instead of trying to defend Trump against these claims, simply dismissed them as being media lies.
Trump, unwittingly or not, unleashed an army of alt-right trolls, mesmerized by Trump's outsider image, who conducted a campaign of "memetic magic" against his opponent, eventually taking credit for Hillary's collapse at the 9/11 ceremony in New York. These 4chan trolls, affected by a kind of dark and literal synchromysticism, came almost to manifest or invoke an actual avatar of chaos in the guise of Pepe the frog: the neglected Egyptian frog-headed deity,
Kek
. The culture was being cucked by Kek. More on this god later.
Yet after Trump got elected the conspiracy theory narrative flipped to the other side. Now it was Clinton and the DNC who claimed that Trump was conspiring with the alt-right and Russia, and ultimately Putin himself, to poison the minds of Americans against them. Trump, who they previously attempted to slander as being a conspiracy theorist, was at the centre of the wildest conspiracy theory imaginable.
The Russians hacked the election! And their means of doing this was equally sinister. They used WikiLeaks, previously considered by liberals to be an ally against the military industrial complex, to release hacked emails from the DNC and Hillary's campaign manager, John Podesta. The Russians, after years of covert preparation, were able to disseminate the sordid revelations of these emails through "alternative" media websites and its own RT satellite network.
All of this was soon denounced by mainstream media sources like the New York Times, the Washington Post and CNN, as well as the always credible CIA (or at least "unnamed sources" within this agency) -- and thereby tipping off millions of Trump supporters and other dissidents that it was all bullshit -- as being "
fake news.
"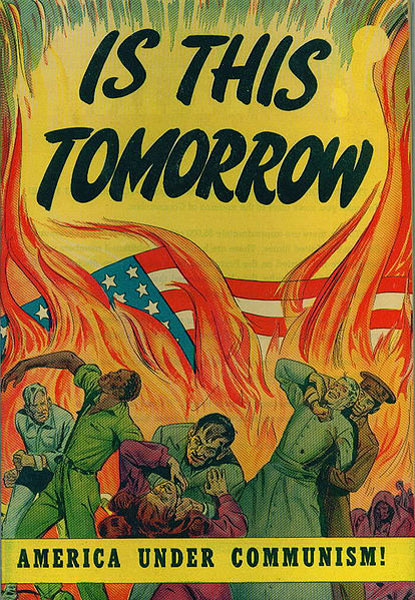 Fake news has been portrayed as being even more dangerous than conspiracy theories because the latter at least make an attempt, however misguided and pernicious, to uncover the
real truth
of unfolding events. Fake news is just pure disinformation, pure confusion, pure nihilism.
Soon lists of fake news outlets proliferated in the mainstream media and their acceptable online allies. Suspect sites included Infowars, Antiwar.com, Zerohedge, GLP, etc. In some circles, to have a site branded as fake news would be like presenting it with a badge of authenticity. In other circles, it was precisely this acknowledgement of the all-too-obvious official contempt for these sites that made them even more suspicious. The public chastisement of these websites, in other words, was also
fake
. An opposition, after all, is much easier to control if it is an official opposition.
For yet others, though, the fake news smear smacked of neo-McCarthyism. In 1951, the Russians wanted to destroy Western Civilization by sponsoring and spreading communist subversion. In 2016, The Russians wanted to destroy Western Civilization by sponsoring and spreading neo-fascist subversion.
Meanwhile, the content of the Podesta emails, hacked/leaked by the Russians or not, indicated that the DNC definitely conspired to unfairly sideline Bernie Sanders and his campaign. Sanders supporters are surely justified in asserting that there was a DNC conspiracy against their candidate. This conspiracy, however, began to look a little less clearcut when Sanders himself, after "losing," vociferously and actively put all his support behind Clinton in order to vanquish the perceived menace of Trump.
What happened? Did Bernie sell out? Did he sell his soul to Clinton for a big summer home and a campaign jet? Or was he compromised from the get go? Was his"role" one of Pied Piper to the Occupy kids? Or is Trump in fact so evil that he needs to be stopped even if that involves sleeping with the demon Killary?
But many could not follow their hero on this dark path. They transferred their support to the person they assumed was the only honourable candidate left in the race: Jill Stein of the Green Party. But suspicion eventually fell on Stein as well. After the election, Stein spearheaded an effort to demand a recount of votes in the Democratic firewall states of Wisconsin, Michigan and Pennsylvania, all states that Trump unexpectedly won.
Why recounts only in these states? Why not in states that Clinton won? Was Stein also working for Hillary the whole time? The recount effort failed to alter the outcome at all, but Stein's trusted reputation was shattered.
And lurking within the Podesta emails was something that would for many shatter the trust they once had in the structure of society altogether. The sinister weirdness began when an email to Podesta first came to light. The email was an invitation for John Podesta to come to his brother's house for a special and private "
spirit cooking
" event hosted by the avant-garde performance artist, Marina Abramović.
Within hours of this email surfacing from the WikiLeaks hoard, the internet knew all about Abramović and spirit cooking. The videos available online of public spirit cooking events were so weird and disturbing that they were quickly branded as being satanic in nature. More sinister still were comments, also discovered online, by Abramović herself that while such public events were mere art, spirit cooking in private, as at the Podesta's, moved into the realm of magical ritual.
But spirit cooking -- partially involving writing on white walls with blood, mother's milk and other bodily fluids -- was only the dark portal to a far deeper and more elaborate cavernous realm of evil and utter depravity. Very rapidly the truth was unearthed. Podesta and his friends and colleagues were communicating in code! "Pizzagate" was
revealed
.
Hi John,

The realtor found a handkerchief (I think it has a map that seems pizza-related. Is it yorus? They can send it if you want. I know you're busy, so feel free not to respond if it's not yours or you don't want it.

Susaner
It soon became common wisdom that the term "pizza" used with uncommon frequency and in strange context within the emails, was pedophile code for girls while "hotdogs" referred to boys. Nobody, when really pressed, could give a clear source for where this code originated from, but rumour on the web was that the list of pedo code words came from the FBI.
This was the same FBI, of course, and especially its director, James Comey, that last July had very controversially cleared Clinton from any intentional wrong doing in discussing classified State Department business on an unsecured private email account.
But then, in a bombshell to the world, less than two weeks before the election Comey announced to the U.S. Congress that the FBI was reopening the Clinton case. This was in regard to information that had surfaced in the investigation of former congressman, Anthony Weiner, the estranged husband of Huma Abedin, Cinton's closest and most trusted advisor. Weiner was charged with sexting a 15-year-old girl.
On the web, rumours and "insider" testimony swirled that the FBI, along with possibly the NYPD and other "white hat" factions within the establishment, was engaged in covert information warfare against the CIA, the DNC and the White House. Even Trump tweeted that maybe the system wasn't as rigged against him as he had thought.
Then, suddenly, as if they consciously were trying to sow as much confusion in the populace as possible, the FBI again announced that according to their superhuman sifting of 650,000 emails that there was still no evidence present against Hillary. Comey had, depending on the narrative, morphed from villain to hero to villain again -- or the exact inverse -- in the space of five months. Whatever the final judgement of his character, he was now universally derided as being inconsistent at best and treacherous at worst.
In any event, this is the FBI that is the most credible source for the pizzagate pedo code. Researchers, by the hundreds and perhaps thousands, quickly moved beyond the code and the emails themselves -- taking them for granted -- and began to investigate the online identities of people mentioned in the emails. The Facebook, Instagram, Twitter, etc. accounts of these people were scoured for incriminating morsels. Creepy photos involving children became viral, and recurring "friends" of these people were also crowd-investigated.
Soon a new and very dark narrative emerged. What was coming into light was a massive high-level pedophilia ring, involving top politicians and bureaucrats as well as avant-garde artists and occult practitioners. This ring, based in the DC area, centred on a Washington hipster pizza joint called Comet Ping Pong, the site of numerous "pizza parties" featuring the sexual violation and possible sacrifice of children. News circulated of underground passage ways linking the basement of Comet Ping Pong with other pizza shops and various businesses in the same neighbourhood. Surely something this nefarious must be happening underground.
For seasoned and hardened conspiracy researchers these revelations did not come as much of a shock. They were well aware of the sordid cases of Jimmy Savile in the UK and Jeffrey Epstein's "Orgy Island" in the Caribbean (which Bill Clinton is said to have frequented), and the reality of an international elite of satanic pedophiles and child murderers was unquestioned. But for those tens of thousands of the newly initiated -- many undoubtedly naive former Clinton supporters -- pizzagate hit them with the force of a mass trauma. This might even be worse than Trump!
By December 5th, while these investigations and the increasingly manic speculation surrounding them were reaching a boiling point, a man named Edgar Welch -- apparently much concerned about the horror of these revelations -- entered Comet Ping Pong and shot it up with a high-powered rifle. Instantly pizzagate became mainstream international news.
Forums like Reddit and others banned discussion of pizzagate, claiming that it was turning into a witchhunt against innocent people; similar, from another perspective, to the neo-McCarthyite witchhunt against "fake news" outlets. Comet Ping Pong owner, James Alefantis, protested in several TV interviews, that his restaurant did not even have a basement.
Claims were made that the Comet Ping Pong shoot-up was an obvious false flag, designed to discredit the legitimate investigative movement. Others, even more cynical, argued that this event proved that the whole pizzagate narrative was scripted from the start (like Hillary supporters claiming that the original Podesta emails were altered). It was all subterfuge, a spectacular distraction to buy time in order to attempt to produce faithless electors against Trump in the Electoral College vote (an attempt which also failed miserably).
Or, perhaps more significantly, it was designed to lead people away from the really damaging, actually incriminating, contents of the Podesta and DNC emails: the Clinton Foundation's pay-for-play, "donations"for for classified secrets, scam which indicated corruption and even treason at the highest levels.
Many others, more skeptical of any conspiratorial explanation, ridiculed the entire thing, mocking the absurdity and baseless conjecture of mass uneducated fever dreaming. This was essentially the line that the mainstream media ran with, along with the added warning that pizzagate, and the resulting Comet Ping Pong shooting, was a prime example of what could happen when Trump-encouraged, Russian-generated "fake news" got out of hand.
Soon social media companies, most notably Facebook, promised to safeguard its clients against the onslaught of fake news. Handy applications were devised to instantly alert unwary smartphone users who suffered from atrophy of their critical faculties.
Everyone could feel that the collective plot was being lost. The hyperdimensional object was well in view, but no two individuals it seemed were interpreting it in precisely the same way. Consensus was no longer even imaginable.